Download & Installation
Installation on each additional name server is very similar to Installing on the first name server. The main difference is that WinBIND will detect there is already a Designated Master so it will simply offer to register this name server in the database: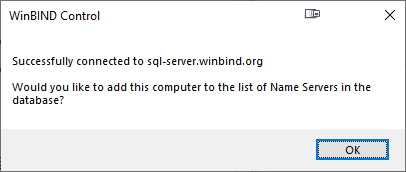 A note on logfile formats
Before installing the WinBIND service please take a moment to ensure that your BIND logs are configured as detailed here. If this isn't done then WinBIND won't understand the structure of your query logs thus it won't be able to upload them to your SQL server either.
Installing the WinBIND service
You can now install and start the WinBIND service in the same way as you did on the first name server.
You can now move on to Configuration
Support & Feedback
If you have any problems, if you get any error messages, or if you have any other feedback then please get in touch – I really do want to hear from you!